My Feature on Shepherd
I was recently featured on a new website called Shepherd, which has just launched. I was approached by Mr. Ben Fox to be a contributor. Thank you, Ben, for giving me the opportunity to share with your readers my book, Horses in Gray, as well as my favorite Civil War novels. Here is the article:
The Best Civil War Novels
Who am I?
J.D.R. Hawkins is an award-winning author who has written for newspapers, magazines, newsletters, e-zines, and blogs. She is one of only a few female Civil War authors, and uniquely describes the front lines from a Confederate perspective. Her Renegade Series includes A Beautiful Glittering Lie, winner of the John Esten Cooke Fiction Award and the B.R.A.G. Medallion, A Beckoning Hellfire, which is also an award winner, and A Rebel Among Us, recipient of the 2017 John Esten Cooke Fiction Award. These books tell the story of a family from north Alabama who experience immeasurable pain when their lives are dramatically changed by the war. Ms. Hawkins is a member of Pikes Peak Writers, Rocky Mountain Fiction Writers, the International Women's Writing Guild, and the United Daughters of the Confederacy. She is also an artist and singer/songwriter.
---
I wrote…
Horses in Gray: Famous Confederate Warhorses
By J.D.R. Hawkins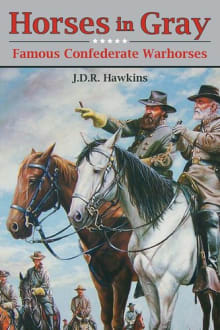 What is my book about?
Never before has there been such a comprehensive look at Confederate military horses in the Civil War and their lives before, during, and after battle. Why particular breeds or colors were chosen for specific tasks, what the life expectancy of military horses was and why they died, and the distinct challenges of caring for horses in wartime conditions are all covered. Chapters focus on how they were acquired by their owners, their lineages, the stories behind their names, and the ways in which they were immortalized. Robert E. Lee's Traveller, Stonewall Jackson's Little Sorrel, Forrest's thirty horses, Ashby's Tom Telegraph, and many more are included in this must-read history.
When you buy a book we may earn a small commission.
The Books I Picked & Why
Gone With the Wind
By Margaret Mitchell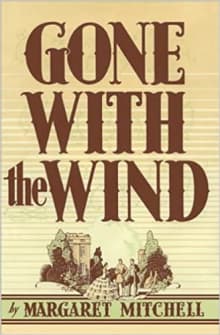 Why this book?
This is one of my all time favorites! The book was so popular when it was first published that it was quickly picked up by Hollywood and made into a movie. The film is a classic, even though disclaimers have recently been attached to it. Gone With the Wind won the 1939 Academy Award for best picture, best director, best adapted screenplay, best actress Vivian Leigh, who played Scarlett O'Hara, and best supporting actress, Hattie McDaniel, who was the first African American to win an Oscar.
---
When you buy a book we may earn a small commission.
Cold Mountain
By Charles Frazier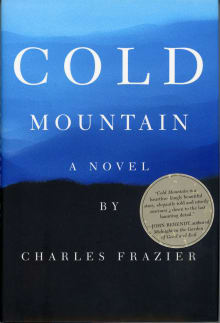 Why this book?
Like Gone With the Wind, this book was also made into an award-winning movie. I find the novel interesting because of the way Charles Frasier wrote it. There are no quotation marks in the book! I'm not sure why he chose to write it like that, but it's interesting, nevertheless.
---
When you buy a book we may earn a small commission.
The Widow of the South
By Robert Hicks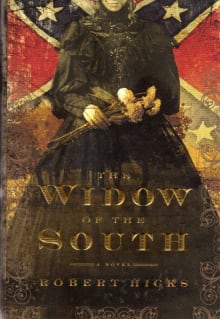 Why this book?
I really like this book because it tells the poignant tale of Carrie McGavock, who was forced to deal with the Civil War when it appeared in her front yard. This is based on a true story. Carrie was so compassionate that she buried the solders, both northern and southern, on her property. The cemetery at her home, Carnton Plantation, is still there. I had the opportunity to meet the author, Robert Hicks, at a book signing, and visit Carnton Plantation. The home served as a field hospital during the Battle of Franklin, and bloodstains still remain on the wooden floors.
---
When you buy a book we may earn a small commission.
March
By Geraldine Brooks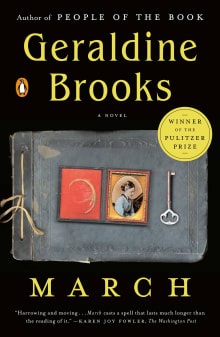 Why this book?
This book is not as well known, but the author, Geraldine Brooks, did an amazing job in describing the war. She took an interesting spin by writing a side story to the famous novel, Little Women. Interestingly, Little Women was written by Louisa May Alcott, who served as a Union nurse during the Civil War.
---
When you buy a book we may earn a small commission.
Shiloh
By Shelby Foote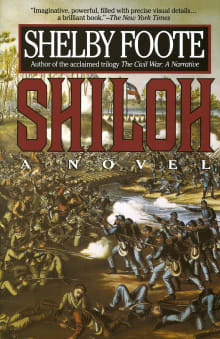 Why this book?
This novel was written by Shelby Foote, who gained notoriety when he appeared on Ken Burns' documentary series, the Civil War. Mr. Foote is probably better known for his trilogy of the Civil War, which is narrative nonfiction. However, he did write fiction as well, and this book is one example.
---